2013 has been a blast, lots of great books and exciting reads. This list is not any any particular order but if you want a long story short then here are the reviewers #1 most anticipated read of 2014.
Jon Snow: Words of Radiance
Danica: Skin Game
Laurentius: Skin Game
Ben: The Doors of Stone
Antoxx: Tower Lord/Fool's Assassin
Edit December 2014:

And to find out how these books ended up doing, and our actual picks for the BEST Fantasy Reads of 2014, please read the following lists:
Looking through this list I have compiled with the lovely reviewers we have at BestFantasyBooks.com, it looks like to be a really exciting 2014. I also think this would be a great list to look for new reads as well, as these are obviously authors we love. Have you got something coming out next year that you love as well? Share it with us!
Prince of Fools by Mark Lawrence
Jon Snow: After the success of the Broken Empire Trilogy, Lawrence again immerses us in the same world. Others have loved the obsessive rambling of Jorg the protagonist but there are those who just hate our Anti-Hero. What will Prince of Fools bring? What I can say is that Emperor of Thorns, the last book of the Broken Empire was also the best. This means that Lawrence has learnt to grow as a writer and that bodes well for Prince of Fools.
Ben: Set in the Prince of Thorns world and tying to the events of the "Prince" trilogy. Based on Lawrence's previous works, I can't see this one being a bad read. I'd be interested to see what Lawrence can cook up outside of the Prince universe, but for the time being I'm willing for another foray into it.
Laurentius: After Emperor of Thorns, I am actually looking forward to the next instalment of the series. It's not great fantasy, the stories are transparent and the setting unoriginal. But I feel like Mark Lawrence has gotten better at writing with Emperor and hope it carries over to his "restart" of the series.
Words of Radiance by Brandon Sanderson
Jon Snow: Let's not kid ourselves, this is probably the most anticipated book in most people's minds. The Way of Kings was a masterclass in writing, storyline and has great characterization which previously was lacking in most Sanderson's books. There are some that have prematurely proclaimed that The Way of Kings is the fantasy book/series to have ever been. There probably needs to be a few more in this series before that title can be handed to this series, but I'm sure that Words of Radiance will confirm what a lot of people are thinking already.
Laurentius: Yeeeeeeees. My precious!
Ben: This is no doubt the crowd favorite; I'm so excited for this book I'm willing to sell my left kidney for an early copy!
Firefight by Brandon Sanderson
Jon Snow: Steelheart was a really cool book. A neat twist on the superhero genre with the usual Sanderson surprise ending. Most likely a two book series (could be three…Sanderson is undecided, but if there is a third it will be called Calamity), it will be interesting to see how much Sanderson can pack into this book. Also look out for a kindle only short story called Mitosis, which is set between Steelheart and Firefight.
Ben: Would love to read the next book in this series. Steelheart wasn't my favorite Sanderson book, but it did keep me captivated.
Sequel To Elantris (yet to be named) By Brandon Sanderson
Jon Snow: If you look on his website he states the progress of his books. Words of Radiance has started its first proof, Firefight is 39% written. Sanderson is a machine. Although there is no title or inklings of this book being written, there is a chance of this starting to get written, but perhaps more likely is the 2nd book of his second Mistborn trilogy titled: Shadows of Self.
Jon Snow: If you haven't entered the world of Harry Dresden, Wizard, Investigator of Crime, Za'Lord, then you seriously need to. Books 1 and 2 have a lot of introduction to the world and the story is slower, but once book 3 starts it is all go. Readers like me can't get enough of Dresden. Each book his world gets more complex, yet it retains the humour and the excitement. Those who have read all the way to here. I bet this is one of your Top 3 books of 2014.
Laurentius: This one right here is my #1 pick for 2014. Looking so much forward to seeing Dresden in action again (and maybe hear the audiobook by James Marsters again. We all know he is the real Harry Dresden). Nothing much to say. A must buy.
The Crimson Campaign by Brian McClellan
Jon Snow: The Powder Mage Trilogy was my surprise of 2013. I felt I really got the story, I liked the limitations of the characters and their powers even if it was a little predictable. I'm hoping that with each new book McClellan will get better as a writer and we'll be in for a real treat.
Ben: The first book, The Promise of Blood, set the tone for what looks to be a very compelling new action-fantasy series in the vein of Mistborn. Quite a few people were impressed with the first book; the sequel looks to be every bit as enticing.
Half a King by Joe Abercrombie
Jon Snow: I think it is great that Abercrombie is delving into the YA market. I wish more fantasy authors would dip their hand at that. There needs to be more of a bridge between YA and fantasy. Yes, there are books like Harry Potter, Hunger Games, Percy Jackson and the like, but how many of those readers actually go on to read fantasy/sic-fi? Having an author that has books in both categories will help a lot.
Ben: Abercrombie writing a YA trilogy that's NOT set in the First Law universe? Sign me UP!
The Doors of Stone by Patrick Rothfuss
Jon Snow: Will this actually come out in 2014? There are many who have eagerly waited for the third of this series. Is it because some authors are trying to push the boundaries of writing so much that they entangle themselves in the complexity of their own made up world?
Ben: It would be a tragedy of the highest magnitude if this book did NOT come out 2014. Hands down this would be my most anticipated fantasy read of 2014. Come on Rothfuss!
Assail by Ian C. Esslemont
Look if you have made it this far in the Malazan world, then you are going to read the final book aren't you. Amazing how many books there are in this world, considering how big each book is as well.
The Dark Defiles by Richard Morgan
Jon Snow: The trilogy ends with The Dark Defiles. Morgan has a very interesting writing style that hasn't captured the fantasy audience as he has the sci-fi audience but there are readers like me that are intrigued. What intrigues me the most is his complex woven story that is coming to a climax. It's been like the TV series Lost. Lots of questions and hopefully they will all be answered in The Dark Defiles.
Ben: Love this series. Dry, dark, disturbing and something "new" in the fantasyscape. Morgan is not afraid to break the common mold with his characters, descriptions, and even relationships (the main hero is gay). If you like gritty and brutal, this series is a must read. Book 3 looks to tie everything up.
The City Stained Red by Sam Sykes
Jon Snow: A demon that ushered in a world of medical and technological advancement is banished because of his tyrannical ruling nature. Years have passed and his return his imminent.
Brent Weeks has big raps on this guy and their regular banter can be found on twitter.
Breach Zone by Myke Cole
Laurentius: The Shadow Ops series is one of the best new series in the last few years. It's fast paced. It's fun and it's all full of everything you wish for in urban fantasy. If you want a different, but fun read, this is your go to series.
Thief's Magic by Trudi Canavan
Jon Snow: The start of a new series for Trudi. I think she is getting better as a writer and slowly gathering a lot of momentum behind her.
Laurentius: I've enjoyed every one of her books and I'm pretty sure this will be another solid one.
Sworn in Steel by Douglas Hulick
Laurentius: I loved his first book, Among Thieves. It's one of the best takes on a thief in a fantasy setting I've stumbled upon and look forward to the sequel. If you liked Locke Lamora or like thieves in general, this is one of the best books to go for. I hope it can carry the weight of the great debut.
Ben: Hulick made some big waves with his debut novel. I found it entertaining enough to be looking forward to his newest in the series.
Jon Snow: The Lightbringer Series has been a bit of a revelation and saviour for Brent Weeks. There were a few who did like The Night Angel trilogy but some like myself just hated it with a passion. Ben (bfb.com owner) has lauded this new series and The Blinding Knife was his favourite read of 2013.
Ben: Book three in The Lightbringer series. Book two, The Blinding Knife, was one of my favorite reads of 2013.
Laurentius: Very much looking forward to this book. His Lightbringer cycle has a fantastic magic system, a few good characters and a great one. There were some inconsistencies with the blinding knife I hope he fixes. A good writer and what so far seems to become a great series.
Jon Snow: We've said it before but here it is again. Anthony Ryan is someone who has gone down the self-publishing route and come out of the other as a success story. He did it the "right" way. Now, he is a published author with many fantasy readers who can claim that they read Anthony Ryan when he was still self published.
Ben: Based on the strength of the first novel, I say bring on the second! A cool magic system, battle monks, a coming of age story about a hero. What more could you possibly want?
Antoxx: Anybody who read Ryan's hugely successful first offering in the Raven's Shadow trilogy, Blood Song, can not be anything but chafing at the bit to read the second instalment If the continuing story of Al Serna does anywhere near as close to that of Blood Song we'll definitely be in for a wonderful read.
The Aeronaut's Windlass (The Cinder Spires) by Jim Butcher
Jon Snow: There isn't a lot of information about this book. What I can tell you is that it is set in a steampunk world where tall spires are erected. Factions battle each other. Ha….like you needed motivation to read a Jim Butcher book.
Laurentius: Steampunk book from Jim Butcher. I eat up everything he writes. I have great expectations of this one.
Jon Snow: Stick to what you know right? Hobb has had a lot of success with Frasier, Liveship Traders and Tawny Man. She once again goes back not to the same world (Rainwild series), but to the same immediate world of Fitzchivary and the Six Duchies. Some of us will probably say that Fitz is our favourite character of all time. We've been through his joys, triumphs, sadness and tragedies. I think all audience members hope we get the same emotional rollercoaster.
Antoxx: The Fool's Assassin will be Hobb's first book in a new trilogy entitled Fitz & Fool. Set in the same Elderling world as her brilliantly written Farseer, Liveship Traders and Tawny Man trilogies, the series will represent a return to FitzChivalry Farseer and the Fool. Whilst this will be one of my most anticipated books of 2014, I must admit to having a small degree of reservation as I thought the way in which Tawny Man finished was extremely satisfying. That said, a return to two of my all-time favourite fantasy characters is bound to overcome any reservations within the first few pages.
The Widow's House by Daniel Abraham
Ben: The fourth book in Abraham's excellent The Dagger and the Coin series. This is one of the better fantasy series that's been released the past decade — and one that I feel is a bit under-appreciated.  Yes it doesn't have the pure action and magic-fest that some of the other fantasy works, but Aberham puts a lot of emphasis on character development and plot; everything just gradually builds up and you get sucked into this compelling world.
Shattered by Kevin Hearne
Laurentius: The Iron Druid chronicles is a decent series and a good place to go if you have Dresden cravings. It's not terribly original but it's a solid series none the less. Who would have thought Bob could be a dog?
Peter Grant #5 (not the real title) by Ben Aaronovitch
Laurentius: This is probably the best urban fantasy series I've read next to the Dresden Files. The British Harry Dresden, constable Peter Grant has to battle evil and save London once again. I am sure it will be a blast, just as much as the first four books have been. Do yourself a favour and read these!
Jon Snow: Look out for the UK TV adaptation of this sometime as well!
Danica: Awesome series, it helps keep me going when I'm craving Dresden. Light, action packed and they are funny books.
The Dragon House by Elspeth Cooper
Antoxx: A series that I'm really glad that I stuck with given the awkward first book. The Dragon House will be the concluding story in the Wild Hunt quartet This one I'm keen to read simply to see how Cooper manages to wrap up the series and can only imagine what will be the mother of all battles.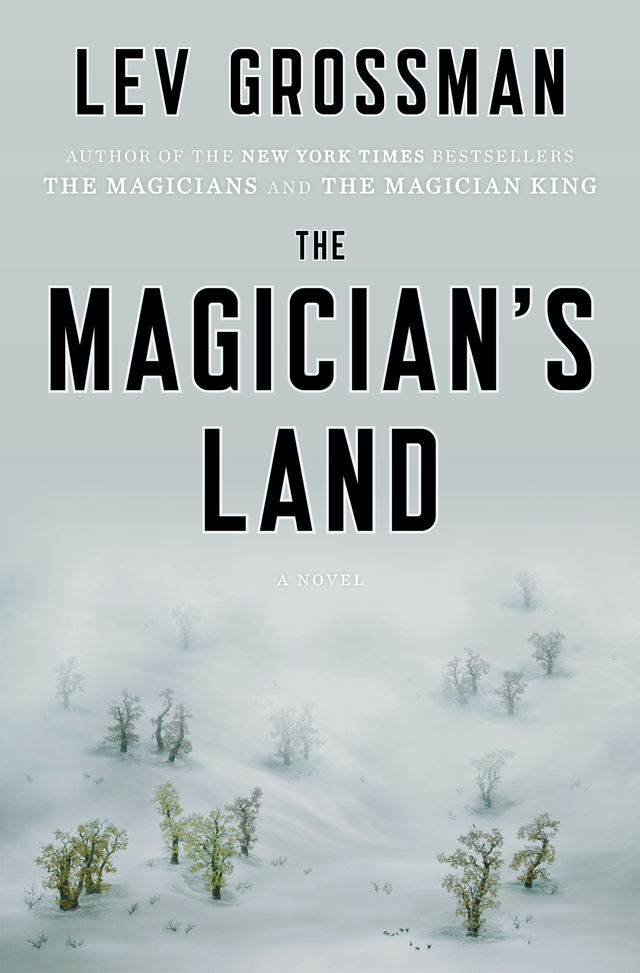 The Magician's Land by Lev Grossman
Ben: The third book and the conclusion of The Magicians trilogy. This series is one of the most underrated and unappreciated fantasy out there. It's very different from the usual fantasy trope; it's intelligent, witty, dark, depressing, and ultimately a deep look at the flaws of being a human with a lot of power. The basic premise of the series has tried to address the whole  "I've found what I've always wanted in life. I'm not happy. Now what?"  question. Can't wait for the final book in the series.
Laurentius: Oh how I've waited for this one. The first two books were not just great, they were fantastic. I am big fan and this will be one of the best books of 2014, if the past is any indication.
The Shadow Throne by Django Wexler
Ben: Sequel to The Thousand Names which was one of the better fantasy reads of 2013 for me and rather unexpected at that. A very Brent Weeks meets The Black Company feel to it. Looking forward to this one.
A Different Kingdom (Solaris Books) by Paul Kearney
Ben: A highly underrated author (author of Monarchies of God series). A new book. I can't wait.
The Thorn of Emberlain by Scott Lynch
Jon Snow: I think everyone will be super excited if this book does come to pass in 2014. The Republic of Thieves was a hit in most quarters and we do wish Lynch the best in his health. I'm sure what most people will be after is for Locke and Jean to go back to their plotting best rather than backstory. However, Lynch has stated that there might be two novellas that bridge the gap between Thieves and Emberlain which leads me to believe that we'll get maybe one or both novellas in 2014 and Emberlain perhaps in 2015.
Ben: Yes, probably no chance of this coming out next year, but I'll add it on here and cross my fingers. I was left mildly dissapointed with Republic of Thieves, but I enjoyed it at the end of the day. Interested to see where Lynch is going to go after the last book as some interesting things look to be started in the next book based on the ending of Republic.
Antoxx: If The Republic of Thieves represented a welcome return to writing for Scott Lynch, I'm very much a believer that The Thorn of Emberlain will be the book that assures The Gentleman Bastards series a place in the top echelon of fantasy series Of most interest to me will be how Lynch handles the relationship between the characters. Guaranteed will be some great capers if one does assume it will be published in 2014.
Willful Child (Working Title) by Steven Erikson
Jon Snow: I am really looking forward to this book. 1) it is not in the Malazan Empire, a series that is really daunting and looms over me…staring at me on my bookshelf. 2) it is sci-fi 3) it is a parody of sci-fi.
I think we as fantasy readers are too enthralled at reading just fantasy and our big brother sci-fi gets shafted. Definitely lining up to get this about how Captain Hadrian is off to explore new worlds, to explore new habitation for the Terran flag, to destroy all alien life…to blow up…
A Knight of the Seven Kingdoms by George R.R. Martin
Jon Snow: A kind of anthology of the Dunk and Egg series. It will contain The Hedge Knight, The sworn Sword and The Mystery Knight in one book. There may or may not be The She-Wolves which is the 4th Dunk and Egg story but GRRM has stated that he wanted to put The Winds of Winter first.  (weird, can't pre-order from Amazon US but you can from UK. yes UK says 2015 but I've seen it for 2014 in other places.)