Well here it is, books to look forward to in Jan and 2013. There are many books every year that get published and some years after better than others; 2013 I think will be an amazing year. Jordan, Sanderson and Gaiman are just a few that will release books next year.
TO VOTE on your most anticipated books and to see what the public feels the most anticipated fantasy books are, go to the Public's Most Anticipated Fantasy Books of 2013 list on our Listiverse.
To Be Released 2013 For Sure
"The Most Anticipated"
Memory of Light by Robert Jordan/Brandon Sanderson will most likely be the most anticipated book (by the masses anyways) of 2013 and it comes out in January! This is the last and final book of the Wheel of Time series. It has been a long time coming. At first there was only going to be one book after Jordan's death but Sanderson is a genius writer and knew it couldn't be finished in one. Those that groaned about this needed not to worry as Sanderson worked on it furiously and was able to get them out speedily and now the final tome will be out soon.
The Prologue is now out if you want a sample taste of what's to come. WHEEL of Time took a bit of a hit in recent years due to Jordan losing control of the plot threads, but Sanderson has done a great job at bringing it back to heel.
The Daylight War by Peter V. Brett. When I read the Painted Man, I was really skeptical because it is portrayed as one of those boys gains super power and is all powerful. I was quickly thrown off my perch of presumption and landed solidly on my backside. I loved The Painted Man (also known as the Warded Man in US) and quickly finished off The Desert Spear. The Desert Spear was quite a disappointment because the story just seemed to go off in a tangent. Things did not add up to me, however, it is a series and sometimes things don't seem right because you don't have full information. I'm looking forward to The Daylight War and will pre-order it right after Christmas!
Ben: I'm looking forward to this one. I hope Brett learned from the mistakes he made with The Desert Spear. My hopes are up though and I will be looking forward to this one. I'd even go as far as to say it may be my most anticipated book of 2013 (assuming the big hitters like Martin and Rothfuss don't release their books).
Emperor of Thorns is the conclusion to a very good debut trilogy by Mark Lawerence. King of Thorns was perhaps one of the best reads of 2012 from owner Ben. So if you haven't given this new author a go yet, perhaps now is the time just before the trilogy ends!
Ben: Prince of Thorns was a great debut with a lot of promise to the future books. King of Thorns was outstanding. This man knows how to write sharp prose. My favorite read of 2012 by far. Dark, brooking, intelligent, with a likeable unlikeable hero. Lots of sharp insights by Lawrence on the nature of man through the soliloquies of Jorg Ancraft, the hero or villain, depicting on your view.
The Rithmatist by Brandon Sanderson
Ben: Well, when Sanderson is not finishing off the Wheel of Time or cooking up about a zillion other writing projects, he finds time to release yet another book. And here's my bet he's going to have another novel and interesting magic system. Just a guess.
Jon: Don't shoot me but I kind of wished The Rithmatist wasn't coming out this year. Hey, don't get me wrong, I'll pre-order this baby and read it in a few days but…I really wish it was a Mistborn book or even better yet a Stormlight Archive book.
The Tyrant's Law by Daniel Abraham
The Tyrant's Law is the third book in the Dagger and Coin series by Daniel Abraham. Best known for his Long Price Quartet and collaborating with none other than George R.R. Martin for some things. The Dagger and Coin series is fast shaping up to be one of the better fantasy trilogies out there – take some of Martin and add some of Abercrombie then filter it through Abraham's perspective and wit and you have something grand. The series is a more intelligent take on the the Wheel of Time with more realistic characters who flaws and an interesting world with a deep back-story to it.
Keep an eye or two on this one folks. Abraham is quickly becoming one of my favorite writers in the genre and he has yet to publish anything that's not A quality. And if you haven't read The Dragon's Path (first in the series), your crazy!
The Dark Defiles by Richard K. Morgan
Ben: Book three in Morgan's outstanding fantasy series. Dark, gritty, genre bending and breaking. This is fantasy gone wrong but so right. It's not a series for "everyone" and Morgan shatters the typical heroic stereotypes by featuring a gay protagonist. But it all works. If you like vicious action, flawed characters, a dark world, this series delivers. Morgan took a look at standard epic fantasy and then wrote his version of it in a way to subvert some of the norms. I'd say fans of Abercrombie and Martin would love this series.
Jon: The Dark Defiles is the third book in The Land Fit for Heroes series by Richard Morgan. The first of this series The Steel Remains was read by a good friend of mine and she thoroughly enjoyed it. Sigh…wish I had more time to read.
(this isn't up for pre-order yet)
River of Stars by Guy Gavriel Kay
Set in the same alternate historical china as his outstanding Under Heaven, but several centuries later. If this is anything like his Under Heaven, this is a must read for any fantasy fan that likes superbly written prose, well-crafted characters, and an exotic Asian landscape.
Blood of Dragons by Robin Hobb
Hobb's new entry in the Dragon Keeper series, a series so far that has more in common with her Liveship Traders series in tone and feel than with her Fritz Chivalry series. Typical Hobb with complex characters with plenty of conflict between them. Fans of dragons will love this series as Hobb adds the Dragons as living breathing characters with motivations (and speech!) of their own. If you liked the simplistic dragon-human relations in say a book like Eragon, you'll be stunned by Hobb's ability to create dragon characters that are real personalities.
The Unholy Consult by R. Scott Bakker
Ben: I'm looking forward to this one, the concluding novel in The Aspect-Emperor trilogy. This trilogy didn't have the same bite as the original one, but it's still very good.
(Not available for pre-order, no pictures!)
The Crown Tower (The Riyria Chronicles #1) by Michael J. Sullivan
Ben: Truth be told, I'm not a big fan of the Riyria series as of yet. But I fully admit to only having read the first in the series (The Crown Conspiracy) so take what I say with a grain of salt. My impressions of the first book was that I didn't find it very well written (now, that's coming from me who's impressed with prose from the best like Martin, Abercrombie, Kay, Lynch, Williams, etc) and the characters were clunky; I can definitely see the self-publishing history behind this series as parts of the book seemed more like a fan fic production than a real book at times. However, having said that I haven't read the sequel novels and word on the street is the author finds his stride later on in the series. I've even heard he's gone back and fixed up the prose in the first book based on readers' critiques; so maybe I had an older original copy of it.
BestFantasyBooks.com actually has a bit of a history with this author. I believe his wife sent us a review copy years and years ago back when the author was still self published. We never got around to reviewing it (opps) due to time constraints. So we DO still owe the author a review of his book, which I hope to have up in a few months.
On a personal level, I'm REALLY impressed with Sullivan bucking the whole Big Six publishing world and taking the self publishing route, finding success on his own terms, then managing to land a real publishing contract with a publisher. That's a hell of a feat to do — my hat's off to Sullivan for this. Any of you self-published authors should take note of what he's done and pick his brain on how to do this!
Despite my ambivalence, the series seems to have hit a chord with fantasy readers who want a more light-hearted, less witty version of Lies of Locke Lamora. Just don't expect anything too complex plot wise or deft, witty prose. I owe it to my readers to continue on a few more books in the series to see how the books pan out though.
The Ocean at the End of the Lane by Neil Gaiman
Ben: haven't read anything by Gaiman that I've disliked. American Gods, Anansi Boys and Neverwhere are all brilliant books. Coraline is a favourite of mine to read to the kids in class. You also know you've made it when you've made a cameo on The Simpsons. Gaiman seems to release multiple novels each year, many of them short stories or in production with other authors. This one is ALL his own and it's a full novel. Word on the street it's great.
Sworn In Steel by Douglas Hulick (A Tale of the Kin #2)
Ben: Among Thieves, the first in this series, was a great read. I'd say a lighter version of Scott Lynch with some good first person narration. His book made pretty big waves in the fantasy universe; a good deal of people are expecting great things from book two.
"Less Hyped 2013 Releases"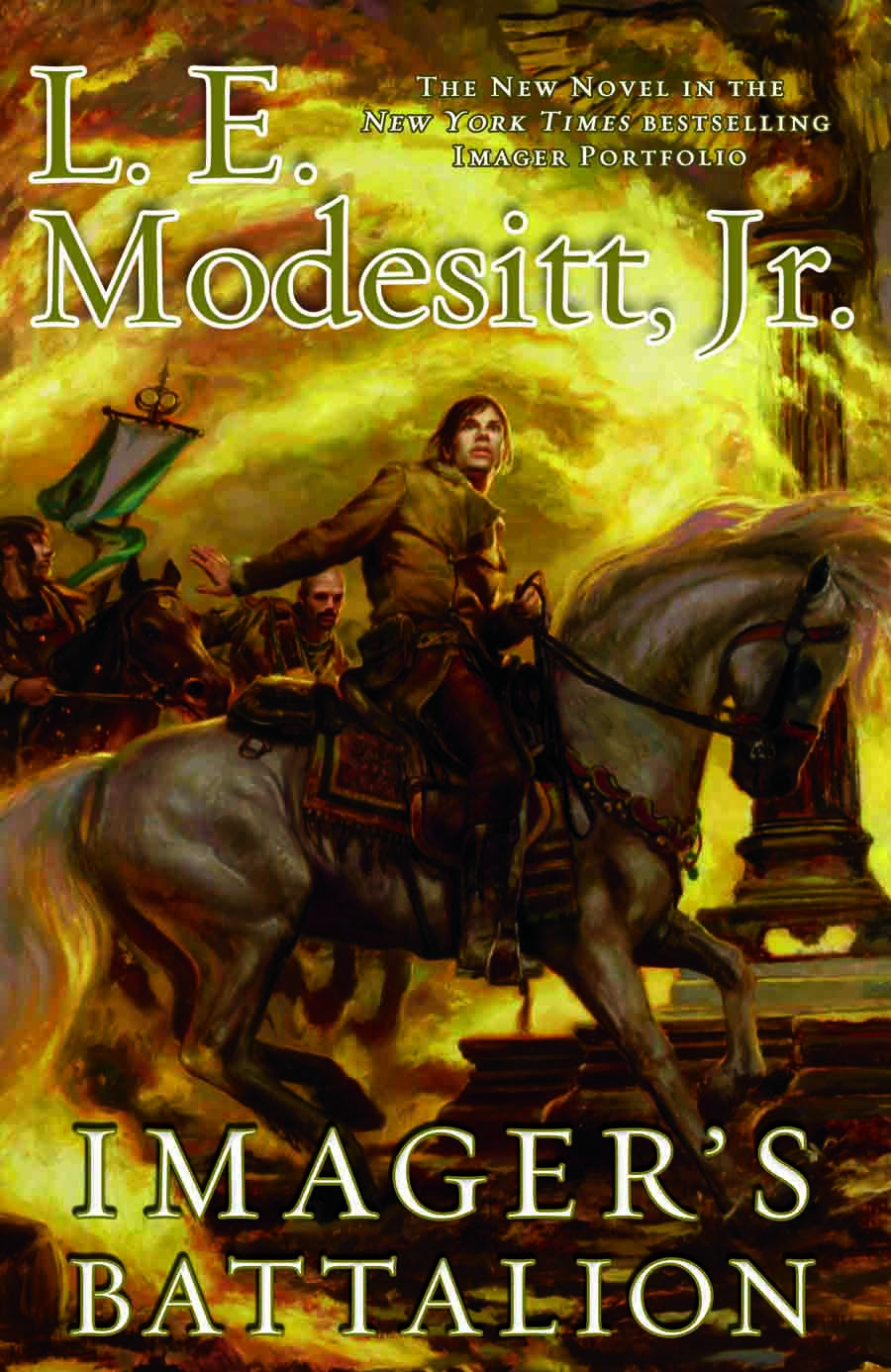 Imager's Battlion is the sequel to Princeps by L.E. Modesitt Jr. Those of you who have been waiting patiently (3+ Years) will finally feel rejoiced. I've been following this series for a few years now. Same style formula every book, but still entertaining. The author is not for everyone and his books (all of them) are all very similar in form and style with lots of battles and a farmboy style hero who can do no wrong and rises to greatness.
The Silver Dream is the sequel to InterWorld by Neil Gaiman and Michael Reaves. It is a science fiction YA book. Gaiman's stories are full of typically full of excitment and intrigue. I'm more looking forward this his The Ocean at the End of the Lane release, but if you eat up everything Gaiman releases, you'll want to keep your eye on this one.
Jon: Magician's End by Raymond E. Feist is the last and final book of The Riftwar saga and tells the story of Pug and the prophecy about him. I'm sure loyal Feist readers will be looking forward to this. I don't know why though. Magician wasn't all that good.
Ben: On a personal observation about Feist: Feist's recent books have been quite disappointing and I've since stopped even reading any of his new releases. The whole Midkemia story has grown stale already. Do something new dammit! I still maintain that his Empire trilogy is his best work so far if you want to read Feist. However, if you are a Feist fanboy, you'll probably want to pick this one up. This is one of those authors I sort of recommend to people these days. He's written a few good novels but he's sold out to the man by riding on the coattails of previous success. Dammit man, you can do better than that, so write something different for once.
Cold steel is the final book in the Spirit Walker Trilogy. Kate Elliot is probably right now one of if not the most prominent female fantasy writer in publication. It's either her or Hobb.
Blood of Tyrants I'm sure will be some people's anticipated books. I used to be a big fan of the Temeraire series but after putting down Tongue of Serpents I felt she had really lost it. However, others have said that Crucible of Gold (the latest book) redeems her again. I do feel that this series does need to end soon. Her previous publisher dropped her after her sales slumped.
Great North Road. Peter Hamilton is probably the best current science fiction writer at the moment. There are many who have dabbled in it of late, more so in the popular fiction genre but these are true science fiction books.
Great North Road is set in 2142 AD. Angela Tramela was convicted of murder 20 years ago, is released from prison after a new murder scene was identical of the one she was convicted of. She never waivered that it was some Alien life form. Since there is no animal life on St Libra where she lives, leaves the government perplexed and concerned. With Angela's help, they attempt to track down this 'alien life', but when one by one the team members die, all is not as it seems…
Chu's Day by Neil Gaiman is a kids picture book. Gaiman has written kids picture books before and he's also written short novels for kids (Coraline). He is a master, and how else do you groom kids into reading fantasy? Read them ridiculous picture books!
Gun Machine by Warren Ellis
Graveyard Child by MLN Hanover
Necessary Evil by Ian Tregillis
Abaddon's Gate by James S.A. Corey
Caliban's War by James S.A. Corey is the second book in the Expanse series. Leviathan Wakes (the first entry in the science fiction series) was standout, one of the best new science fiction books (especially space opera) to come out in years. If you like science fiction, read the first book and you will be picking up book 2 shortly after.
The Human Division by John Scalzi
The Three Prince War by Pierre Pevel
The Willful Princess and the Piebald Prince by Robin Hobb
The Middle Kingdom by David Wingrove
Time of Contempt by Andrzej Sapkowski
The Ace of Skulls by Chris Wooding
Maybe Released if the Fates Align
Triumff: The Double Falsehood by Dan Abnett

Republic of Thieves. Is this book on a list like this every year since what…2009? I mean, dear lord, please let it be July 2013, but I am not betting my house on it. I don't know what's up with Lynch. I've read that he's had illnesses but he's doing just fine blogging and his girlfriend Elizabeth Bear is publishing books.
The High Prince of War (Stormlight Archive Book 2) by Brandon Sanderson
Please be released? If there is a problem with Sanderson, it's that he takes on too many side projects at the same time. Let's see, finishing off the Wheel of Time, starting his OWN super epic fat fantasy series, writing stand alone Mistborn novels, writing short stories and coughing up a few other new fantasy books all at the same time.
(A completed version of) The Sea Beggars by Paul Kearney
Finish this damn you! Here's hoping it might just get done 2013.
Drakenfield by Mark Charan Newton
Ben: Well this one looks interesting, a sort of fantasy version of Sherlock Holmes. Newton has written a pretty interesting epic fantasy called Legends of the Red Sun. He's not as well known as some others, but he's a good writer. Keep an eye on this one.
The Long Shot Book Releases (Don't Place Any Bets)
The Doors of Stone by Patrick Rothfuss
Not likely to be released judging by Rothfuss's track record, but man it by some miracle it was released, holy heaven I and much of the fantasy world would sing for joy. The first was awesome, the second book many didn't like as much. Can Rothfuss redeem the story in the third? If he can move the plot forward, then yes.
The Blood Mirror by Brent Weeks
This series is much improved over his original Night Angel trilogy, which to me read like a John Woo movie made into a fantasy book. Book one was so so, book two was so much better and one of my top reads for 2012 in terms of sheer entertainment. The series is not deep or anything, but it will satisfy your craving for some good heroic action epic fantasy.
The Winds of Winter by George RR Martin
Yea, not keeping my hopes up for this one. Martin seems more content in milking his success and having an actual life outside of writing than …well…writing. Shame shame on him for wanting a life. If life were fair, we'd have Martin locked into a cell and force the man to write 20 hours a day, 7 days a week.
Something More Than Night by Ian Tregillis
If you want to see our READER's picks for the most anticipated fantasy books of 2013, check out our Crowd Ranked version of the list. You can vote on your most anticipated fantasy read of 2013 or even add a book to the list! Your votes affect the ranking.
If you know of any other good books you are looking forward to, feel free to post below in the comments sections. Help us spread the love of fantasy!